Best Show Yet!
Celebrating our Fifth Anniversary the Las Vegas International Accordion Convention had over 440 people from all over the world. Attendees came from as far away as Barbados, Scotland, and even South Africa. This year there were many more young accordionists who attended the convention on youth scholarships than ever. With an overwhelming response the convention was deemed a HUGE SUCCESS.

Featured this year were top talents in almost all areas of the accordion. Highlights to this year's event was three time Grammy Award winner Walter Ostanek who brought a smile to everyone's face including the Tonight Show filming crew.

Pictured above is Gary Blair Junior. He and several other talented young people attended the event, including Gary's father who came from Scotland. Gary Blair senior performed as a surprise guest artist and set a new definition for speed! Thanks Gary and Gary Junior for being part of our event!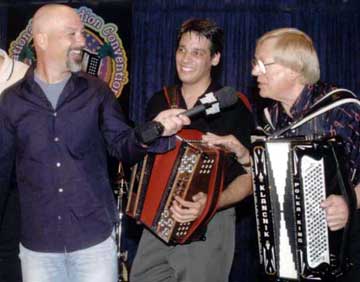 The Tonight Show filming crew along with Howie Mandel visited the Convention and the segment aired Wednesday June 23 on your local NBC affiliate. Shots were taken of many of the attendees and performers with Howie in many different accordion situations. The segment was an entertainment and comedy segment that did feature only one aspect of the convention which was polka music (almost all genres were represented with 7 concerts). The segment did show people having fun and showing the accordion in a positive fun light. No jokes where made directly about the accordion and Howie did thank the Las Vegas International Accordion Convention on air for allowing them to do the segment. We thank the Tonight Show for allowing 6 million viewers to realize the accordion is ALIVE and doing well!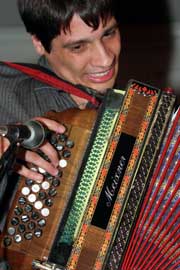 Featured this year were 16 World class Accordion artists plus backup musicians. The lineup included, Walter Ostanek, Art Van Damme, Peter Soave, Mario Tacca & Mary Mancini, Gary Blair, Don Lipovac, Tony Lovello, Stas Veglevski Alex Meixner, Janet Todd, the "K" Trio, Gina Brannelli, Mady Soave, Mirco Patarini, Ron Borelli, Gordon Kohl and Steve & Michael Trucco along with backup musicians Gaylord & Eddy Klacncik plus Ken Seifert on bass and Rich Dalabio on drums.

Over 40 workshops and classes were offered and the classes were well attended. Four evening concerts were each varied in variety of music from classical to jazz to polka.

This year the Deiro youth performers were Daniel Jakolich, Sammy Thomas and Spencer Wagner – the final judging was done by Guido Diero Junior who awarded all the recipients a gold medal and he awarded the Crystal Deiro award to Spencer Wagner.

Other awards given this year were to Joan Cochran Sommers as the Honorary Conductor of the 2004 convention. The Good Time Accordion Club was honored with the Crystal Frosini Award for their outstanding work in promoting the accordion. The lifetime achievement award was presented to Tony Lovello with a special video presentation of his life and a Honorarium was given to Jay Todd for his work in publicizing the event.

Over 125 attendees were so excited about this year's event that they paid a deposit and signed up for next year's event which will be held June 26 to 29, 2005 at the Gold Coast Hotel and Casino Convention Center. We are looking forward to a great new year with our move to the Gold Coast.